Tooth Veneer: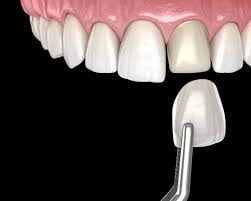 Dental veneers are wafer-thin, custom-made shells of tooth -colored materials designed to cover the front surface of teeth for excellent cosmetic and function. These veneers are bonded to the front surface of the teeth to mask discoloration, change the shape of malformed tooth to anatomical and cosmetic pleasing  and restoration of aesthetic and function in caries damaged tooth and  traumatic fractured tooth  .
What are types of veneers?
Dental veneers can be made from porcelain or from resin composite materials. Composite veneer is a simple composite filling that is bonded directly to tooth in dental clinic. It requires fine art beside scientific knowledge. Assistant Professor Dr. Muhammad Ahmad is the best in designing macro aesthetic and micro aesthetic to best restore smile. Nanohybrid and nano fill composites are bonded to teeth and polish to give fine shiny luster. Porcelain veneers are made in dental laboratory. Porcelain is more aesthetically pleasing than composite.  Porcelain veneers resist stains better than composite veneers. Porcelain veneers closely mimic the optical and light-reflecting properties of natural enamel of teeth. You will need to discuss with dentist the best choice of veneer material for best results in your case.
Indications of veneers:
Veneers are routinely used in managing following cases:
 Discolored teeth because of:

root canal treatment
stains from tetracycline or other drugs
excessive fluoride
large resin composite fillings
other causes of discoloration as well.
Tooth wear because of attrition, abrasion and erosion.
Teeth that are chipped, cracked fractured
Misaligned teeth, uneven, or irregularly shaped teeth like peg lateral incisors.
Midline diastema and spacing between teeth.
What are advantages of dental veneer:
These are minimum invasive restorative options available. Tooth is prepared without local anesthesia and there is no pain or sensitivity.
Veneers create Hollywood smile.
Porcelain is gum friendly and biocompatible.
Porcelain veneers are stain resistant and maintain shiny, glossy appearance.
Opaquer, stains and fluorescent agents create excellent cosmetics.
These are long lasting and have no complications.
What is procedure for Tooth Veneer?
Porcelain veneer is designed for best aesthetic result. Extraoral examination like facial symmetry, skin color, smile line, smile arc and intraoral examination like tooth size, length to width ratio, tooth color, alignment is recorded. Patient photographs are taken and impression is recorded to make model. Treatment planning for best cosmetic designing is done and communicated with patients that what are expected results. Diagnostic wax up, nonbonded composite shape like veneers and Temporary veneers are used to show patient final aesthetic results before final preparation of teeth.  If patient agrees then tooth is prepared for veneer.
Tooth preparation is confined to enamel so called intra enamel preparation.  Tooth is minimally prepared 0.3 to 0.7 mm on facial surface. There is no need for anesthesia because procedure is pain free. Incisal edge preparation designs are incisal overlap, window and butt joint.  Butt joint incisal edge design is preferred in lingually tilted tooth. Window incisal edge design is suitable for tooth with high occlusal load e.g., canine with wear facet. Incisal overlap requires 1.5 mm incisal edge reduction and is situatable for cases with high aesthetic demand where incisal edge translucency is required. Impression of prepared tooth is recorded and sent to laboratory for veneer fabrication. Veneer is bonded to tooth on next visit.